DUPLESSIS' ORPHANS
Copied from
Tuesday February 24, 2001
'A great, simple man'

ELIZABETH THOMPSON
The Gazette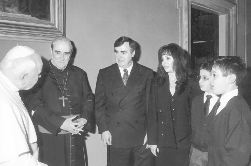 Premier awed as his family meets John Paul II at Vatican

MARCO RAVAGLI, AP / Pope John Paul II meets the archbishop of Montreal, Cardinal Jean-Claude Turcotte, Premier Lucien Bouchard, his wife, Audrey Best, and their sons, Simon and Alexandre, at St. Peter's Basilica yesterday.

He has influenced world leaders and left his mark on the history of the 20th century.
But what caught Pope John Paul II's attention yesterday were two little boys and a handful of messages.
"It went very well," Premier Lucien Bouchard's son Alexandre said in a rare interview yesterday after the premier's family was granted an audience with the pope. "He impressed me a lot.
"I gave him my documents, and he wanted to read them there."
In fact, the pope was so interested in a collection of messages from Alexandre's classmates at Outremont's Externat Mont Jesus Marie that he had to be coaxed to set them aside. "We wanted to talk with him," joked Bouchard.
Yesterday, the premier and his family realized the lifelong dream of many Catholics when they were granted a private audience, lasting more than 15 minutes, with Pope John Paul II.
"He had an absolutely disarming kindness and simplicity," a glowing Bouchard said afterward. "Each instant is privileged with a man of that importance, with what he represents."
Yesterday, as they arrived at the Vatican in navy-blue cardigans and gray flannel slacks with rosaries around their necks, Alexandre, 11, and Simon, 9, appeared a bit nervous at the prospect of meeting the pontiff.
"He's not mean at all," Cardinal Jean-Claude Turcotte told them with a laugh. "He is like a good grandfather."
Provincial officials initially expected the audience to take place in the library, the room usually used for meeting international leaders. Instead, after touring the Sistine Chapel, Bouchard, his family and Turcotte were received in the even more intimate papal study, seated across a desk from the pontiff.
"It was an extremely warm meeting, he even met us in his office," said Bouchard, whose tenure as Canada's ambassador to France in the 1980s left him with a finely tuned sense of protocol.
"They told us he does that rarely, that he reserves it for his bishops. So it is a gesture he wanted to make."
Meeting the pope was one of the greatest experiences of his life, Bouchard said. "He is a very great man, so he is a simple man. The greatest men are the simplest men."
Alexandre said the pope moved quickly to put them at ease. "It didn't really happen the way I had thought it would.
"We arrived in the office and he arrived and he smiled at us and he said, 'Hello. How is it going?' "
"We were very surprised by him," echoed Simon. "He was very nice."
The pope, who appeared to be in good form, presented the boys with rosaries. They also got to kiss his ring and pass on messages and questions from their classmates. "One little girl asked how many hours a day he prayed," said Bouchard's wife, Audrey Best.
During the audience, the pope recalled his visits to Montreal, and spoke about aboriginal peoples. "He talked about Quebec, he talked about Canada," said Bouchard, adding the pope had "a sense of humour and an easy smile.
"He knows the geography well."
One thing that wasn't discussed was politics, the premier said. "That meeting, it must be said, was not a political meeting. It was a private meeting."
Nor was there any mention of the Duplessis Orphans, a group that is seeking compensation from both the Catholic Church and the Quebec government for transferring them from church-run orphanages to insane asylums while Maurice Duplessis was premier.
"It is a settled file as far as I am concerned," Bouchard told reporters testily.