DUPLESSIS' ORPHANS
Copied from the National Post
Tuesday, March 02, 1999
'Still seeking justice': Cleric declined invitation to review victims' evidence

Campbell Clark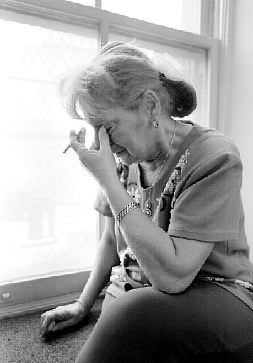 Yvette Gascon, 59, breaks down after a news conference where the Duplessis Orphans Committee responded to Jean-Claude Cardinal Turcotte's claim there was no evidence of wrongdoing by the Catholic church in institutionalizing children suspected of being mentally handicapped.
Marion Kelly burst into tears as she recounted being beaten as a child, and being forced to eat a dead mouse. She distributed her medical report from the St. Julien hospital, where she lived as a child, which reported she had been struck with a hammer.
Herve Bertrand said he was sodomized 30 times when he was a child at the Mont-Providence psychiatric hospital in Montreal. He distributed a medical report which describes damage to his anus, and his need for an operation. He offered to take a lie-detector test.
In a televised press conference, a group of the so-called Duplessis orphans reported abuse suffered as children in orphanages and psychiatric hospitals, and distributed copies of medical reports and diagnoses, as well as police complaints they have filed.
They were, they said, responding to a challenge from the Roman Catholic Archbishop of Montreal, Jean-Claude Cardinal Turcotte, who recently denied the Duplessis orphans' claims of widespread abuse at orphanages, schools, and hospitals run by Catholic religious orders in the 1930s, '40s, and '50s.
Cardinal Turcotte said 10 days ago that the government and doctors might have acted badly, but if the nuns did, "then first prove it."
A group representing the Duplessis orphans challenged Cardinal Turcotte to attend a press conference where they would publicly show him their evidence, but the Cardinal, one of Canada's senior catholic clergymen, declined.
"He should drop his company- executive reflexes," said Bruno Roy, the head of the orphans' committee.
Cardinal Turcotte said in a statement that his attendance "would put me in a situation where I would be called upon to answer questions regarding cases about which I have no knowledge." He added it would not respect the right to reply of the monks and nuns involved. Cardinal Turcotte was in Rome yesterday for a meeting of a Pontifical Council.
The Duplessis orphans, mostly children of unmarried parents, were left in the care of orphanages run by the religious orders, but they ended up in psychiatric institutions. Doctors issued false diagnoses which labelled them as mentally ill.
The internments were the result of a policy decision to transfer them from educational to medical institutions, since federal funds could be obtained for hospitals. Hundreds of the orphans -- the name refers to Maurice Duplessis, the Quebec premier for most of the period -- have reported they were physically and sexually abused.
Their efforts to file class-action lawsuits in 1992 were blocked when courts ruled they must sue individually.
The Quebec justice department decided in 1995 it could not prosecute 321 criminal complaints, largely because time limits on charges could have expired, or because the alleged abusers could not be found or were unfit to stand trial. One monitor was convicted of molesting a boy 40 years earlier when the victim laid a charge privately.
They have called for compensation from the Quebec government, and are now demanding the Quebec government launch a public inquiry. Mr. Roy said the inaction of Lucien Bouchard, the Quebec Premier, has made the case "a national shame."
Cardinal Turcotte's recent statements provoked outrage from orphans groups, who noted that Cardinal Turcotte had repeatedly refused to meet them. It also provoked public reaction, including a series of letters to Montreal newspapers, many critical of the cardinal.
Many orphans' representatives had, in fact, felt the facts of their case are well established. In 1997, Quebec's ombudsman concluded many had suffered, and recommended they be compensated. And many obviously sane orphans have shown journalists and others diagnoses that labelled them "mentally deficient."
The allegations of childhood abuse were largely based on hundreds of personal accounts, although yesterday four orphans offered some records to back their claims. Orphans' representatives have said they could hold such press conferences every week.
Mr. Bertrand said when he complained of abuse to police, they asked him why he consented.
"I am still seeking justice," he said.
In addition to orphans' accounts, a psychologist, Dr. Jean Gaudreau, recalled yesterday how he was shocked to find a five-year-old boy in a straightjacket when he visited Mont-Providence in 1961. He said he had difficulty convincing a nun, who insisted the boy was violent and dangerous, to release him, but when he was released, the boy proved non-violent.